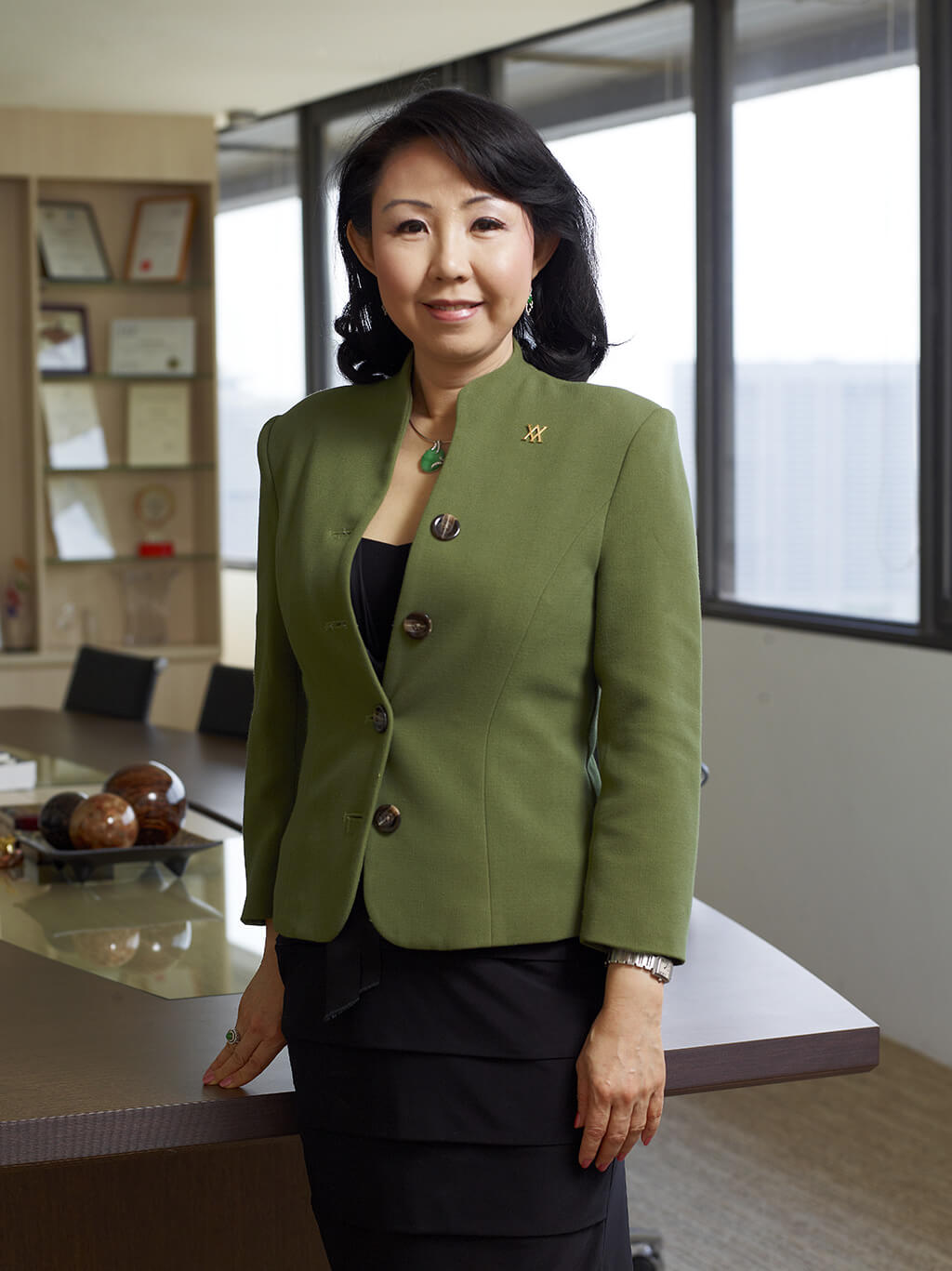 Audrey
Yap

Su Ming
Managing Director
LL.B. (Hons)
LL.M.
Advocate & Solicitor, High Court of Malaya
Advocate & Solicitor, Supreme Court of Singapore
Solicitor, England and Wales
Registered Patent Attorney, Singapore
Certified Patent Valuation Analyst
TÜV SÜD Professional Singapore Certified Management Consultant
Commissioner for Oaths, Singapore
Notary Public, Singapore
Email: audrey@yusarn.com
Phone: + 65 6358 2865
DID: +65 6929 6355
Fax: +65 6358 2864
Audrey Yap is Managing Director and Co-founder of the ASEAN regional law firm Yusarn Audrey LLC.  Established in 1999, the firm is an intellectual property and commercial law practice offering legal and intellectual capital management as part of an integrated suite of intellectual property solutions which includes establishing robust intellectual property portfolios such as patent drafting and filing support as well as transactional expertise to monetise intellectual property.
Professional Qualifications
Audrey has been admitted to the Malaysian Bar and the Singapore Bar.  She was also enrolled as a Solicitor of England and Wales in September 1999 and is a Registered Patent Attorney in Singapore.
She is a Certified Patent Valuation Analyst (CPVA) and a TÜV SÜD Professional Singapore Certified Management Consultant (PMC).
Audrey's thesis for her LL.M., which focused on a specific area involving life sciences and the law, completed in 1990, was based on a comparative analysis of the position in various countries including United Kingdom, Australia, Singapore and Malaysia and was considered an outstanding effort of an inter-disciplinary study by Professor John Wade, who was then Acting Dean for Bond University Australia and her external examiner.
Audrey was awarded book prizes for Administrative Law and for best project paper on "Blood tests in paternity proceedings" in her undergraduate studies.  She was in the top 20 of her cohort for the Practice Law Course in Singapore administered by the then Board of Legal Education (now Singapore Institute of Legal education).
Key Appointments
Audrey was appointed as a Board Member of Enterprise Singapore on 1 April 2018 by the Ministry of Trade and industry.  Audrey also served as Board Member of Intellectual Property Office of Singapore ("IPOS") from 2015 to March 2022.
She is a Notary Public and an Independent Director of a Singapore listed company.
Audrey is a Member of the World Intellectual Property Organization ("WIPO") – World Economic Forum International Steering Committee for the Inventor Assistance Programme.  In May 2022, she was appointed to the joint China Council for the Promotion of International Trade / China Chamber of International Commerce Intellectual Property Committee.
Audrey is the Chairman of the Singapore Innovation and Productivity Institute Pte. Ltd. (SIPI).  Audrey is Honorary Treasurer of the Singapore Manufacturing Federation ("SMF") and elected Council Member.  She chairs the Finance Management Committee of SMF.  She is also Council Member of the Workforce Advancement Federation.
Audrey was previously a Law Lecturer at the University of Malaya, Malaysia, prior to moving to Singapore in 1993.
Audrey was appointed an Adjunct Fellow of the Intellectual Property Academy of Singapore in 2004.  She served on the IPOS Patent Agents Qualifying Examination Committee from 2002 to 2006 as an examiner for the Singapore Patent Agent Qualifying Examinations and tutored trainee patent agents sitting for the procedural paper.
Sample Projects Completed
Audrey was selected by WIPO to serve on a high-level expert panel in 2015 on International Technology Transfer in Geneva under the WIPO Development Agenda Framework.
WIPO appointed Audrey as their Regional Consultant (Intellectual Property) to head up a study conducted from 2004 to 2006 involving a team of national experts for ASEAN to report on the feasibility of establishing intellectual property business development hubs in ASEAN and the economic use of intellectual property.  She provided expert advice and support to the ASEAN Secretariat and the ASEAN Working Group on Intellectual Property Cooperation in this role.
The European Patent Office (EPO) invited Audrey to serve as an external expert under the European Communities (EC) – ASEAN Intellectual Property Cooperation Programme in 2004.  As part of her duties as external expert, she delivered papers on "Commercialisation and Valuation of Intellectual Property" at conferences held in Manila and Bangkok jointly organised by ECAP together with the Intellectual Property Office of Philippines and the Department of Intellectual Property, Thailand respectively.
Audrey was also appointed in 2011 under a trade related project funded by the European Union as the Expert assisting IPO Philippines in a national project in developing the model for Innovation and Tech Support Offices throughout the country and providing training for 28 Philippines universities involved.
In 2012, Audrey served on the IPOS Steering Committee on a National Intellectual Property Competency Framework as well as on the Intellectual Property Sub Committee on "Developing a vibrant marketplace for intellectual property transactions and commercialisation" for the purpose of the Intellectual Property Hub Master Plan for Singapore, launched in March 2013.  She was on the IPOS board in the updated version 2017 and in its most recent reiteration as Singapore Intellectual Property Strategy (SIPS) 2030 launched in 2021.
Audrey served on the Innovation and Enterprise Industry Expert Panel for the National Research Foundation under Prime Minister's office of Singapore 2014 and 2015.
Audrey continues to serve as intellectual property expert and consultant for various European Union Trade related Technical Assistance Programmes and WIPO supported initiatives in China, Vietnam, Philippines, Brunei and Thailand.
She was a Member of the SMEC Council and chaired the SMEC Innovation Sub-committee, Singapore Business Federation for several years.
Audrey was also a Council Member of the Association of Small and Medium Enterprises ("ASME") from 2011 to 2013 and the Chairperson of Singapore Prestige Brand Awards, a jointly organised event by Singapore Press Holdings' Lianhe Zaobao and ASME in 2012 and 2013.
Practice Area
Audrey's area of practice includes trademark advice, filing and prosecuting trademark applications both nationally and internationally, preparing and filing patent applications, advising on the management, protection and enforcement of intellectual property rights, intellectual property licensing and assignment, franchising and copyright advice.  She has worked with and maintains professional relationships with an international network of associate professionals and firms so as to ensure protection of her clients' rights regionally.  This requires familiarisation with the different protection regimes in each country and understanding the local terrain so as to better guide her clients as they go international, as Audrey's work involves advising her clients on intellectual capital management and aligning a company's intellectual property portfolio with its commercialisation strategy.
Audrey has acted for listed and private companies, multinational corporations, government linked companies, hospitals, research institutes, pharmaceutical and medical apparatus companies, large public cooperatives, technology companies, venture capitalists, foreign and local law firms and individuals.
Awards
Audrey was most recently awarded "Partner of the Year" in 2022 by the Ministry of Law, Singapore for her outstanding services to the intellectual property sector.
Audrey was the only lawyer from South East Asia named in 2009 inaugural list of the top 250 World's Leading Intellectual Property Strategists (IAM 250) in a London based survey conducted by IAM magazine.  To date she is the only intellectual property strategist listed in the (now) IAM 300 magazine for the 14 consecutive years including for year 2022.
Audrey and her firm received "Quality Partners Award" from the Housing Development Board ("HDB") of Singapore in December 2018 for services rendered in building up HDB's intellectual property infrastructure for intellectual property management.
Over the years, Audrey has received many accolades including being named as:
one of Singapore's leading lawyers in Who's Who Legal;
in Euromoney as one of the top Women Business Lawyers in Singapore;
recommended Individual for the World's Leading Trademark Professional; and
a market-leading lawyer in Asialaw Leading Lawyers 2018 for Intellectual Property.
Publications
Audrey has authored many intellectual property related articles over the years, including those published in Les Nouvelle (a specialist journal for LES International), Advancing the Business of Intellectual Property and WIPO magazine.
See https://www.wipo.int/wipo_magazine/en/2021/01/article_0002.html.
Audrey was also contributor to various chapters in the following books:
Winning with IP: Realizing IP's Potential for High Growth (2020);
Winning with IP: Managing Intellectual Property Today (2022); and
Franchising & Licensing Asia
In her early years, Audrey contributed articles to the Annual Survey of Malaysian Law in 1988 and 1989.
Speakers Circuit
Audrey has been an invited speaker at business and legal seminars, locally and regionally throughout her career.
Sampling of Engagements
Audrey was a guest lecturer at Beijing University in 2005 on intellectual property management.
She also presented at Fordham University, New York, USA on Intellectual Property Day in 2006.
Audrey presented at the WIPO regional symposium in Hong Kong on 29 and 30 October 2009, and at PCT Asia at Biopolis Singapore on filing strategies for PCT applications (21 to 22 April 2008).  She was a speaker at the ASEAN IPA annual conference in Manila Philippines (13 to 15 March 2008) on Biotechnology and conducted a two-day WIPO workshop at MyBiotech Corporation, Kuala Lumpur, Malaysia in the same year.
Audrey was a plenary speaker for Europe Asia Patent Information Conference held in Singapore in March 2004.  She was a guest lecturer on Intellectual Property for the in-house training programme at the Nanyang Technological University.  She was also guest speaker presenting on the topic Technology and the Entrepreneur at a seminar jointly organised by the Institute of Engineers Singapore, the Licensing Executives Society Singapore, and the NUS Engineering Faculty (Technopreneurship Programme).
Audrey was a speaker at a series of seminars jointly organised by NSTB (as it was then known) and Arcasia Land on Biotechnology Patents in 1999 and 2000.  She also spoke on building a valuable intellectual property portfolio in the life sciences at the Life Sciences: Protection and Funding conference organised in conjunction with Singapore Society for Microbiology & Biotechnology and Centre for Life Sciences & Chemical Technology, Ngee Ann Polytechnic.
She also spoke at the HDB Prefab Technology Centre 6th Anniversary Forum 2001 on "Creating Value: Harnessing Intellectual Assets for Business Growth", conducted a full-day intellectual property workshop for the Building and Construction Authority of Singapore, and was a plenary speaker at the Global Franchising 2002 and 2003 Conferences in Singapore.
Audrey was a regular expert speaker and/or moderator at the Global IP Forum (GFIP), IPOS flagship annual intellectual property event for many years between 2014 to 2020.
Professional Memberships and Positions Held
Audrey is a Member of a number of professional associations.
She was the first ever delegate from Singapore to be appointed President of Licensing Executives Society International ("LESI") from 2020 to 2021 after serving as Vice President for several terms.
Prior to her election, Audrey served as the Chairperson of the Education and Training Committee and Exco Member of the Licensing Executives Society Singapore for five terms, from 1999 to 2004 and held this position again in 2009.  She was elected the President of the Licensing Executives Society Singapore for 2011 to 2013.  Audrey has served as Co-Chair of the Asia Pacific Committee as well as Legal Counsel to the LESI Board over the years.
She served as Treasurer and Exco Member for several years until 2009 in the Association of Singapore Patent Agents (ASPA).
In the Asian Patent Attorneys Association (Singapore Group), Audrey was the representative of Singapore to the Asian Patent Attorneys Association (APAA) Designs Committee for four years where she presented the country report on developments in law in this area.
She has been Legal Advisor to the Franchising and Licensing Association (FLA) Singapore since 2020.
She is a Member of Innovation and Trademarks Committee, International Trademark Association (INTA).
She previously was engaged with / Member of the ASEAN Intellectual Property Association (AIPA), and International Association of the Protection of Industrial Property (AIPPI).
Schedule A Consultation With Us.